Missouri River Fly Fishing
Brown and Rainbow Trout
The Missouri River:
The Missouri River is the longest river in North America. It flows 2,341 miles before joining the Mississippi River, but for all intents and purposes we're concerned with the 50 mile stretch below Holter Dam. At times, this stretch is called Montana's largest spring creek, but rather, the tail water flows mimic the prime conditions of a spring creek. Water flows at a fairly consistent temperature, compared to our local free-stone rivers and boasts good clarity year-round. Due to these conditions the fish grow at a staggering rate, and at times it seems there aren't any small fish to be found! Due to the abundant aquatic insects the number of trout below the dam is an estimated 16,000 fish per mile!  That makes for some excellent Missouri River fly fishing opportunities.
Missouri River Fly Fishing
While this is a big, wide river, and possibly not as intimate as our rivers in Missoula, it is a great addition to what we are able to offer while fishing with Clear Creek Outfitters for a couple of reasons.
We can head there for the day when our local rivers are blown out.
It adds to the extensive variety of fishing we are able to offer.
The Missouri has all three types of trout: rainbow, cutthroat and brown. The upper-end of the river consists of a predominately rainbow trout population and the lower-end, near Cascade switches to a population comprised of predominately brown trout. The average size fish on the Missouri, is 18-inhes, while moving further downstream quantities are lower, but chance of catching larger fish (20-inch and larger), increases.
Missouri River Fly Fishing
Depending on time of year we typically use all techniques on this river: nymph fishing, dry fly fishing, and streamer. * The Missouri trip requires a nominal surcharge of $50 due to extra driving. This can be a long day, with a couple of travel hours added on both ends but provides the opportunity to see some of Montana's beautiful country. The tributaries of the Missouri River include: Jefferson, Dearborn, Sun, Marias, Milk, James, Big Sioux, Grand, Chariton, Madison, Gallatin, Yellowstone, Little Missouri, Cheyenne, White, Niobrara, Platte, Kansas, Osage, Gasonade
Missouri River Flows:
Maximum: 750,000 CFS (cubic feet per second)
Minimum: 602  CFS
River Source:Primary source is Hell Roaring Creek a tributary of the Jefferson, Secondary source is Firehole River a tributary of the Madison River
River Mouth: Mississippi River Spanish Lake near St. Louis, Missouri
Join us and create some remarkable memories Missouri River Fly Fishing!
Doug Jones is an expert guide and Missoula is the place for trout fishing
We spent two days with Doug on the Blackfoot and Bitterroot West Fork. This guy knows the rivers and he is very good with weekend fisherman who enjoy the sport but are far from experts. Hiring a good guide makes all the difference for a successful fishing experience. He has the boat, the truck, all the tackle, and above all the knowledge of where to go and how to fish the many rivers in the Missoula area. He is a real pleasure to spend time with as well.
06/15/2017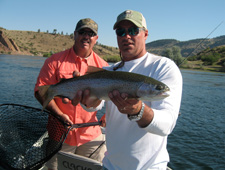 Get more information about our guided fly-fishing trips!
Subscribe to the Missoula Fly Fishing Report