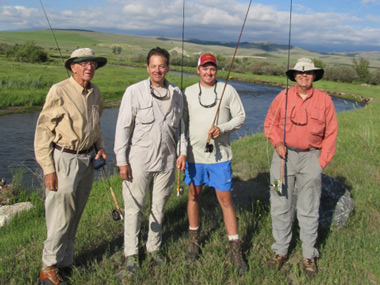 Contact Us - We want to hear from you!
Don't hesitate to contact us to ask questions, schedule your trip, or just say "Hi!"  Please read our testimonials and view our gallery of successful client catches, beautiful views on the river, and much more!  Don't forget to check out the Missoula Fly Fishing Report to get the latest on river conditions and useful tips!
Clear Creek Outfitters
Doug Jones is an expert guide and Missoula is the place for trout fishing
We spent two days with Doug on the Blackfoot and Bitterroot West Fork. This guy knows the rivers and he is very good with weekend fisherman who enjoy the sport but are far from experts. Hiring a good guide makes all the difference for a successful fishing experience. He has the boat, the truck, all the tackle, and above all the knowledge of where to go and how to fish the many rivers in the Missoula area. He is a real pleasure to spend time with as well.
06/15/2017
Sign up for our newsletter!
Missoula Fly Fishing Report delivered right to your inbox, along with handy tips, fishing tales and great catches!
Recent Fishing Reports
Learn from the professionals.
The fishing has been productive this spring. And fairly crowded, depending on the day. If it's a nice weekend day; you can bet everybody and their brother will be out. Good time to take a chance on the Blackfoot or Clarkfork. Even if conditions are not stellar, these...