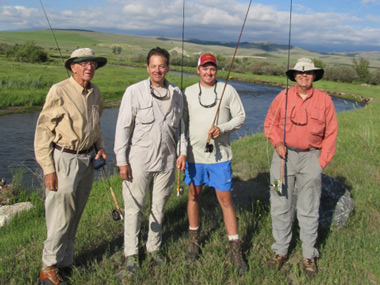 Contact Us - We want to hear from you!
Don't hesitate to contact us to ask questions, schedule your trip, or just say "Hi!"  Please read our testimonials and view our gallery of successful client catches, beautiful views on the river, and much more!  Don't forget to check out the Missoula Fly Fishing Report to get the latest on river conditions and useful tips!
Clear Creek Outfitters
Incredible
Doug is fantastic. Had never been fishing before but was really happy I met Doug and had the opportunity to go on one of his fishing tours/seminars. Was amazing!
08/07/2017
Sign up for our newsletter!
Missoula Fly Fishing Report delivered right to your inbox, along with handy tips, fishing tales and great catches!
Recent Fishing Reports
Learn from the professionals.
Well, fall has come. Trading the rods for the rifles. Another year has passed. Crazy how they seem to go quicker as each one passes. It was a great season. Once again the typical worry and questions about having enough snow for the rivers to hold up all season long....