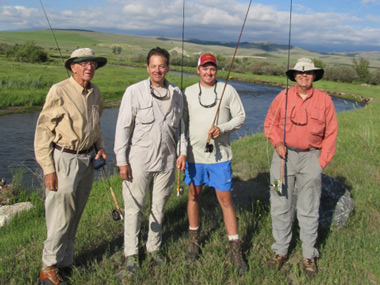 Contact Us - We want to hear from you!
Don't hesitate to contact us to ask questions, schedule your trip, or just say "Hi!"  Please read our testimonials and view our gallery of successful client catches, beautiful views on the river, and much more!  Don't forget to check out the Missoula Fly Fishing Report to get the latest on river conditions and useful tips!
Clear Creek Outfitters
It doesn't surprise me that Doug has great reviews I was his roommate @ LSU for 2 years, he was always fun to be around and one you could count on. He has had a passion for the outdoors so I'm glad to see he has found his calling! All the Best Doug
09/10/2017
Sign up for our newsletter!
Missoula Fly Fishing Report delivered right to your inbox, along with handy tips, fishing tales and great catches!
Recent Fishing Reports
Learn from the professionals.
Well, winter isn't over yet but it's probably a good time to get the gear all tuned up and the flies that were tied in your boxes. Montana's winter started off fairly mild, but high elevation snowpack was above 100%. This Should mean that we will have good flows and...