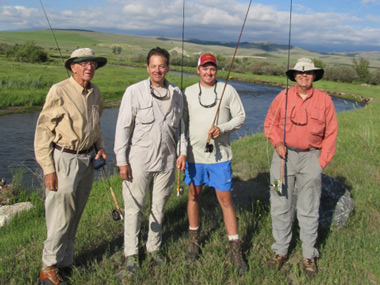 Contact Us - We want to hear from you!
Don't hesitate to contact us to ask questions, schedule your trip, or just say "Hi!"  Please read our testimonials and view our gallery of successful client catches, beautiful views on the river, and much more!  Don't forget to check out the Missoula Fly Fishing Report to get the latest on river conditions and useful tips!
Clear Creek Outfitters
Fishing with Clear Creek Outfitters
I have fished with Doug Jones and Clear Creek on two different occasions. The experience was fantastic. Doug has great knowledge of the rivers and great respect for the ecology and area he calls home. I am a novice fly fisherman and Doug is very patient and well humored when it comes to tangled lines and flies in the back of his neck. Blackfoot, Bitter Root and Missouri Rivers were all amazing. He is professional and well respected. Boats and gear are in great shape.
04/04/2017
Sign up for our newsletter!
Missoula Fly Fishing Report delivered right to your inbox, along with handy tips, fishing tales and great catches!
Recent Fishing Reports
Learn from the professionals.
It's been a kinda crazy summer weather and flow wise. I tell folks count on 90's-100's July thru August... Not this year. First couple weeks in July we had some pretty solid rain. And cooler than average temps. Then just is things heated up and flows started to drop....