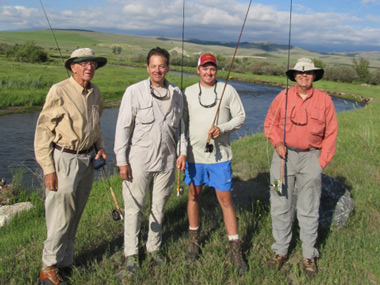 Contact Us - We want to hear from you!
Don't hesitate to contact us to ask questions, schedule your trip, or just say "Hi!"  Please read our testimonials and view our gallery of successful client catches, beautiful views on the river, and much more!  Don't forget to check out the Missoula Fly Fishing Report to get the latest on river conditions and useful tips!
Clear Creek Outfitters
My family and I go with Doug and Clear Creek Outfitters every year.  Clear Creek is a professional outfitter dedicated to their client's needs and expectations. We've never had a bad experience and the fish are always there to put up a fight.
06/30/2013
Sign up for our newsletter!
Missoula Fly Fishing Report delivered right to your inbox, along with handy tips, fishing tales and great catches!
Recent Fishing Reports
Learn from the professionals.
Those 60 degree sunny days have pretty much said goodbye. We've moved into that winter transition where its overcast/raining, with much shorter windows of opportunity. Doesn't mean its not happening, just no reason to be out there too early. Blackfoot has some cool...