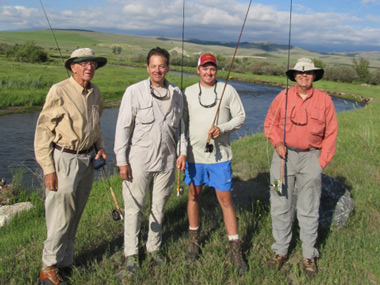 Contact Us - We want to hear from you!
Don't hesitate to contact us to ask questions, schedule your trip, or just say "Hi!"  Please read our testimonials and view our gallery of successful client catches, beautiful views on the river, and much more!  Don't forget to check out the Missoula Fly Fishing Report to get the latest on river conditions and useful tips!
Clear Creek Outfitters
First time fly fishing, could not have asked for a better outfitter or guide, our day down the Blackfoot was fantastic. Doug is what you would want a guide to be, he is experienced, friendly and was extremely patient for a couple of novices such as myself and my wife who were enjoying their 35th. anniversary.

Thanks Doug!
07/22/2013
Sign up for our newsletter!
Missoula Fly Fishing Report delivered right to your inbox, along with handy tips, fishing tales and great catches!
Recent Fishing Reports
Learn from the professionals.
Well, new year, great snow packs so far and with a little luck we'll have a smoke free summer. Time of year where summer seems ages away. But we will be out in a month or so chasing the big green stones along with the fish. This year is going to include some new...