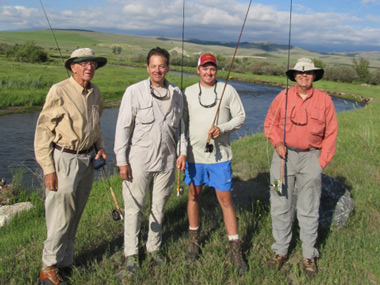 Contact Us - We want to hear from you!
Don't hesitate to contact us to ask questions, schedule your trip, or just say "Hi!"  Please read our testimonials and view our gallery of successful client catches, beautiful views on the river, and much more!  Don't forget to check out the Missoula Fly Fishing Report to get the latest on river conditions and useful tips!
Clear Creek Outfitters
The Clear Creek Experience!!
Doug Jones consistently deliver amazing experiences on Montana's best fisheries. Incredibly skilled and knowledgeable, Doug is equally great with beginners, to the most seasoned anglers....and everyone in between. He is my "go to" guide when fishing the great state of Montana and I highly recommend that you give Clear Creek Outfitters a shot. You won't be disappointed!
04/05/2017
Sign up for our newsletter!
Missoula Fly Fishing Report delivered right to your inbox, along with handy tips, fishing tales and great catches!
Recent Fishing Reports
Learn from the professionals.
Things are feeling a little more like Autumn. This next few day's will see cool weather. Highs in the 60's and some clouds will help the Mayfly's. Have your BWO box and Hecuba's. Hopper fishing is still really good on most stretches with a trico dropped off the back....