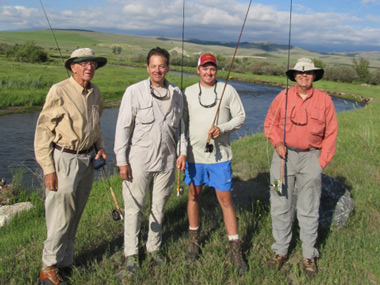 Contact Us - We want to hear from you!
Don't hesitate to contact us to ask questions, schedule your trip, or just say "Hi!"  Please read our testimonials and view our gallery of successful client catches, beautiful views on the river, and much more!  Don't forget to check out the Missoula Fly Fishing Report to get the latest on river conditions and useful tips!
Clear Creek Outfitters
I enjoyed my first Missoula fly fishing experience with Doug guiding my son-in-law and I on 6/20/15. It was an experience of a lifetime fishing for Rainbow, Brown, and Cutthroat trout on the Bitterroot River. Doug was a fantastic fishing guide, instructor, expert navigator, tour guide and well prepared to make it a memorable, comfortable, experience of a lifetime. It was a glorious ending to an amazing week for us, as Doug say's , "living the dream, fishing the stream". I say, "it doesn't get any better than this!" Thanks Doug and Clear Creek Outfitters!
07/02/2015
Sign up for our newsletter!
Missoula Fly Fishing Report delivered right to your inbox, along with handy tips, fishing tales and great catches!
Recent Fishing Reports
Learn from the professionals.
Snow is still high on the banks. Most put in and take outs are covered. And the water temps are cold. I know it sounds negative. But the truth is best. We're still in a Winter condition stage. But the future looks good. Getting out on the weekdays is a good bet. If...